Police found the juvenile victim with a bruised face, neck, and collar bone, and a broken front tooth. She disclosed her stepfather, 51-year-old Michael Ignatz, put her in a chokehold, pulled her into a bedroom, and repeatedly punched her in the face. The incident happened in September of 2020, and a warrant was issued for his arrest. He successfully avoided police until this week, when he was booked on the outstanding felony warrant.
Police were at the Cardiff Drive residence the previous day on another call, and the female juvenile victim had no injuries. On the date of this call, they located the victim at a neighbor's home, where she had run for help after escaping from her stepfather, Michael Ignatz. The argument seems to have started after she tried to retrieve her laptop to complete schoolwork after her mother had taken it away from her as punishment.
The mother and daughter got into an argument, at which time the mother reportedly called Ignatz and told him about the conflict, and is alleged to have told the daughter "I should have got him to get his gun to shoot you", according to an arrest warrant. When Ignatz then arrived home, the victim says he drug her through the house to a bedroom, punched her in the face repeatedly, leaving her with a broken tooth and bruising to her neck, collar bone, and face, which was documented by officers. She reported he strangled her until she heard a ringing in her ears and could not breathe. She was able to escape to a neighbor's home to call 911, and when officers arrived both parents had fled the home, so a warrant was issued for the arrest of Michael Ignatz on September 2, 2020.
Michael Ignatz currently advertises on NextDoor as 'Attention to Details' Handyman services: www.AttentionToDetailsTN.com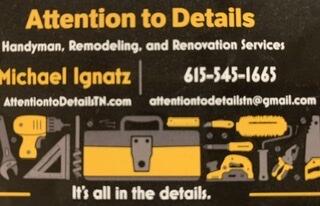 On July 28, 2021, Michael T. Ignatz, was booked into the Metro Nashville Jail, charged with felony aggravated assault/strangulation. He is free on a $7,500 bond.
---
---
---
MNPD AFFIDAVIT:
OFFICERS WERE DISPATCHED TO 5205 CARDIFF DR IN REGARDS TO A DOMESTIC DISTURBANCE. OFFICERS MADE CONTACT WITH THE VICTIM (JUVENILE) WHO WAS LOCATED AT 5209 CARDIFF DR WHERE SHE WENT TO CALL FOR HELP. THE VICTIM STATED THAT SHE WAS ASSAULTED BY HER STEP-FATHER (DEFENDANT) THIS AFTERNOON AFTER AN ARGUMENT BETWEEN THE VICTIM AND HER MOTHER. THE VICTIM STATED THAT SHE HAD HER COMPUTER TAKEN AWAY FROM HER MOTHER AND SHE TRIED TO GET IT BACK TO DO HER SCHOOL WORK AND AT THAT POINT THE VICTIM'S MOTHER TOLD HER NO. THE VICTIM STATED THAT HER MOTHER THEN BEGAN TO ACT IRATE AND CALL THE DEFENDANT AND STATED THAT THE VICTIM WAS ASSAULTING HER. THE VICTIM THEN STATED THAT AFTER HER MOTHER GOT OFF OF THE PHONE WITH THE DEFENDANT SHE SAID "I SHOULD HAVE GOT HIM TO GET HIS GUN TO SHOOT YOU." THE VICTIM THEN TOLD OFFICERS THAT SHE WAS IN FEAR WHEN THE DEFENDANT ARRIVED HOME AND WAS SCARED THAT HE WAS GOING TO HURT HER AGAIN. SHE STATED THAT HE IMMEDIATELY STARTED YELLING AT HER AND THEN PUT HER IN A CHOKEHOLD. HE THEN BEGAN TO PULL HER BACK TO THE BEDROOM AND AT THAT POINT SHE FELL TO THE GROUND AND HE BEGAN TO HIT HER IN THE FACE. SHE STATED THAT AFTER HE STOPPED HITTING HER SHE RAN TO THE NEIGHBORS HOUSE TO CALL FOR HELP. OFFICERS OBSERVED A VISIBLE BRUISE TO HER RIGHT CHEEK AND A CHIPPED FRONT TOOTH. THE VICTIM ALSO HAD VISIBLE REDNESS/SLIGHT BRUISING AROUND HER NECK AND COLLAR BONE. SHE STATED TO OFFICERS THAT SHE DID NOT LOSE CONSCIOUSNESS BUT DID HEAR A LOUD RINGING IN HER EARS AND SHE COULD NOT BREATHE. SHE REPEATEDLY TOLD OFFICERS THAT SHE WAS FEARFUL BECAUSE SHE COULD NOT BREATHE WHEN HE HAD HER IN THE CHOKEHOLD. THE DEFENDANT WAS NOT AT THE LOCATION WHEN OFFICERS ARRIVED. THE VICTIM'S MOTHER WAS NOT AT THE LOCATION EITHER. OFFICERS WERE AT THE LOCATION ON 09/01/2020 AND THE VICTIM DID NOT HAVE ANY OF THESE INJURIES ON THAT DATE. BASED ON THE INJURIES AND THE STATEMENTS MADE BY THE VICTIM IT WAS DETERMINED THAT THE DEFENDANT WAS THE PRIMARY AGGRESSOR IN THIS INCIDENT.


– MNPD OFFICER BRANDON MICHAEL HUGHES 240957 09/02/2020
---
Leave a comment