20-year-old Micahiah 'MK' Barefield has moved off of MNPD's Most Wanted Hot Sheet and into a jail cell. Barefield was taken into custody Thursday on two outstanding felony warrants from January. The warrants allege that Barefield used her grey Ford Fusion to drive around a crowd and run over two of her McGavock High School classmates, Tamia Womack and Kemya Holmes, leaving both with broken bones and multiple injuries.
Court records show that Womack and Holmes had arrived at the Ross parking lot on Lebanon Pike to settle a dispute with another female they knew as 'Pooh' and as they were leaving that fight they were struck by Barefield. Barefield is jailed in lieu of an $80,000 bond, charged with two counts of felony aggravated assault with a deadly weapon.
COMPLAINT:
2021-0024604
ARREST WARRANT / AFFIDAVIT:
On January 13, 2021 at approximately 2030 hours the victims K. Holmes and T. Womack arrived at the Ross parking lot located at 4614 Lebanon Pike to settle a prior conflict with another female nicknamed _Pooh._ The two victims started walking away from the physical altercation when a grey Ford Fusion driven by the defendant drove around the crowd and intentionally drove towards the victims. The defendant struck both victims with the front of the vehicle and fled the scene in an unknown direction. K. Holmes and T. Holmes both suffered broken bones and multiple abrasions from the incident. Ms. Holmes stated the driver of the vehicle goes by the nickname of MK. Ms. Holmes advised they all went to McGavock High School together and the defendant's real name is Micahiah Barefield. Due to the victim knowing the defendant and having gone to school with her I presented a single photo of the defendant to Ms. Holmes. Ms. Holmes without hesitation stated that was the person who ran her and Ms. Womack over.
PROSECUTOR:
JONATHAN D WEEKS
SIGNED BY COMMISSIONER / JUDGE:
NORMAN HARRIS
VICTIM:
TAMIA WOMACK
KEMYA HOLMES (@bankrollmyaa | @bgspaaammmm)
| CASE | CHARGE | BOND |
| --- | --- | --- |
| GS937260 | AGG ASSAULT – DEADLY WEAPON | 40000 |
| GS937259 | AGG ASSAULT – DEADLY WEAPON | 40000 |
---
---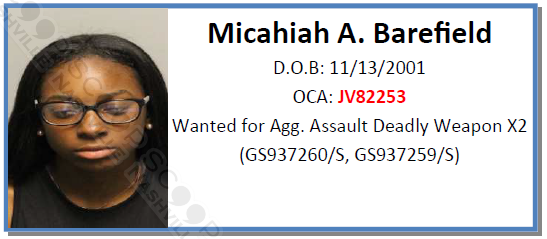 ---
Comments or Questions about this story?
editor@scoopnashville.com
1-888-91-SCOOP (1-888-917-2667)
---
| | |
| --- | --- |
| DEFENDANT: | BAREFIELD, MICAHIAH A |
| AKA(s): | MICAHIAH BAREFIELD |
| ADDRESS: | – |
| JMS ID: | 968737 |
| CONTROL ID: | 605870 |
| SEX: | F |
| RACE: | BLACK |
| DOB: | 11/13/2001 (20) |
| ADMITTED: | 12/30/2021 09:00 AM |
| RELEASED: | |
| BOND VIA: | |
Leave a comment