Nashville Mayor John Cooper has now scheduled multiple "Jurassic Park" style tours of the city's most vulnerable and unhoused humans who have resorted to living in tents and makeshift shelters inside public park space, many times for their own safety. The tours, offered to Metro Council Members and accompanying media, come complete with personal escorts from the city's police force. An invitation notes the office will offer "UTV availability for those who want to go further into the encampment". The next tour group will gather at Azafran Park Tuesday at 4 p.m., should you wish to attend and see if your Metro Council Person brought their binoculars or care packages.
An email sent from the Mayor's Senior Advisor for Intergovernmental Relations, Ginger Hausser, to Council Members notes "we thought it might be helpful to set up opportunities for Council to visit and observe some of the homeless encampments in our Metro Parks. We recognize we have requested a significant amount of funding in recent weeks for supporting this work, with some legislation still pending."
The funding, mentioned above, is spending just under $2 million of recovery funds for clearing the unhoused humans out of the parks. Mayor John Cooper wants to spend $360,000 on 2 Isuzu trash transport trucks for clearing out the encampments, and almost a half-million on camera to make sure homeless people never sleep in a park again. The mayor's plan also includes $30,000 in extremely bright portable lighting rigs to make sleeping for humans impossible and $20,000 for 'pressure washing rigs' – the full breakdown of what the Mayor is trying to sell is below.
---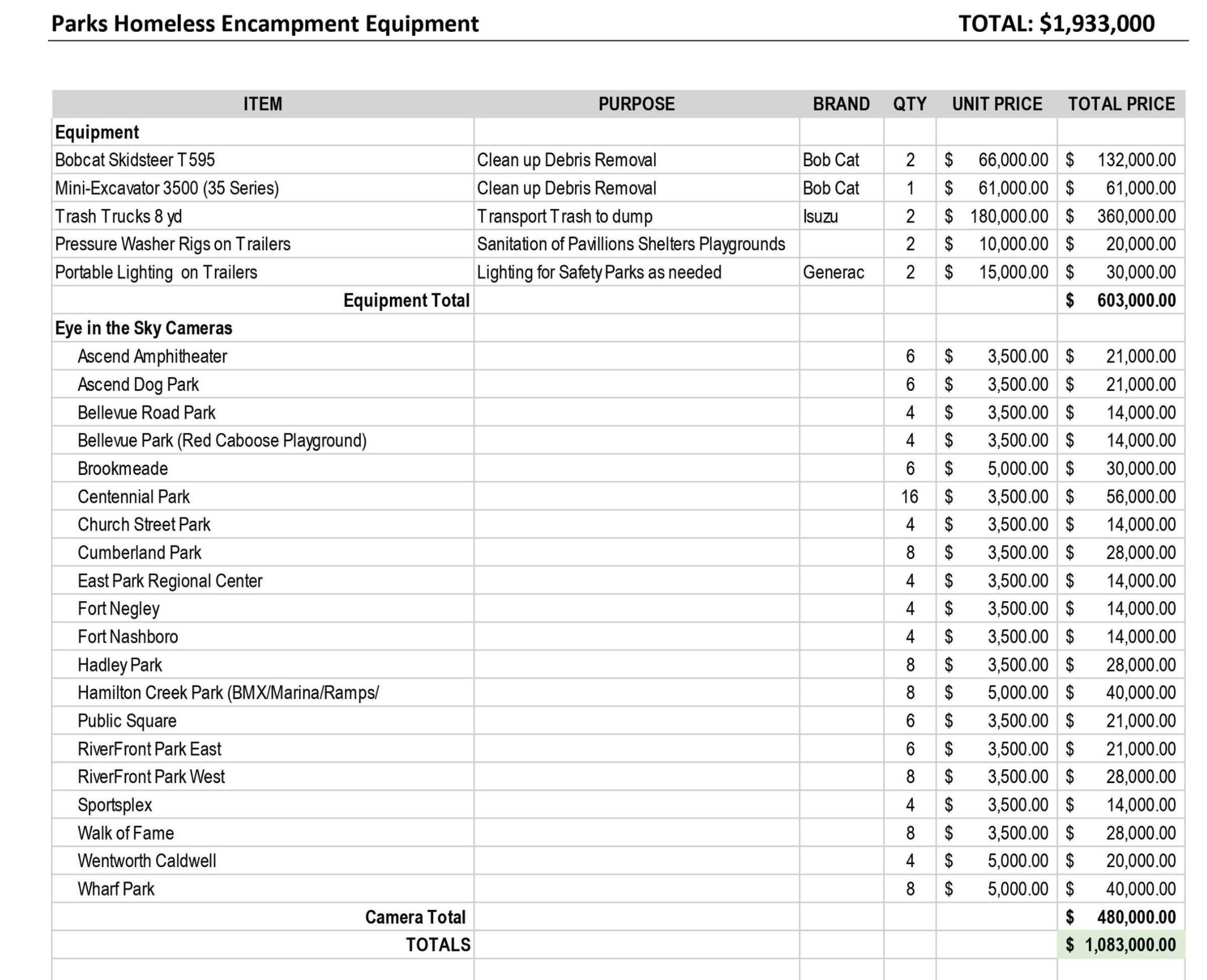 ---
Open Table Nashville responded with the following statement:
PUBLIC STATEMENT ON THE MAYOR'S ENCAMPMENT TOURS

Last Friday, Mayor Cooper's Office invited all Metro council members to "visit and observe" homeless encampments as a part of an effort to obtain funding from the American Rescue Plan for bobcats, excavators, and surveillance cameras that will be used to monitor and dismantle encampments in Metro Parks. Police escorts were offered to any council member who wanted to join the tour, and they also said they had "UTV (utility terrain vehicle) availability for those who want to go further" into the Brookmeade encampment. The reason given for the tour was that the Mayor's Office and Metro Parks had "requested a significant amount of funding in recent weeks to support this work with some legislation still pending."

They are specifically referring to the $1.1 mil dollars they requested from the American Rescue Plan (ARP) under the heading of "Parks Homeless Encampment Equipment." This request was delayed by council members last Tuesday. The $1.1 mil request includes two bobcats, an excavator, two trash trucks, two pressure washer rigs, and 126 "eye in the sky" surveillance cameras for Metro Parks across the city. An additional $850,000 was requested to renovate Brookmeade Park which includes the installation of locking electronic gates. (https://www.sandrafornashville.com/…/18/arp-committee-1013)

The idea of a "tour" of homeless encampments that doesn't involve the voices, input, or leadership of residents and treats human beings like wild animals is not only problematic, it's utterly demoralizing. The leaders of the service agencies who consented and contributed to this plan should be ashamed. Furthermore, requesting ARP funds that should be used for recovery efforts to further monitor and dismantle encampments on public land during a housing crisis is an offensive misuse of funds. Our ask for the Mayor's Office and Metro Council is this: If Mayor John Cooper is truly committed to providing housing for our friends in the lowest income brackets, he would put his energy into beginning construction on the 80+ units of low-income housing just north of downtown that was promised over two years ago.

We also want to see the Mayor's Office invest $10 mil more for permanent supportive housing for the residents of encampments instead of ripping apart the only homes they know.We're asking Metro Council members to vote "NO" to using $1.1 mil of ARP funding for demolition and surveillance equipment for Metro Parks. We're also asking all council members to refuse to participate in dehumanizing tours that are not trauma-informed and do not involve the leadership of people who are directly impacted by the housing crisis. The solution to homelessness doesn't entail bulldozers, surveillance cameras, or inhumane tours. The solution is simple: housing ends homelessness.
---
---
The Vice Mayor distances himself
Late Monday, Vice Mayor Jim Shulman took steps to distance himself from the political fallout of this tour of the city's most vulnerable humans. He notes he does not support such a tour, and no one ever discussed a group tour with him.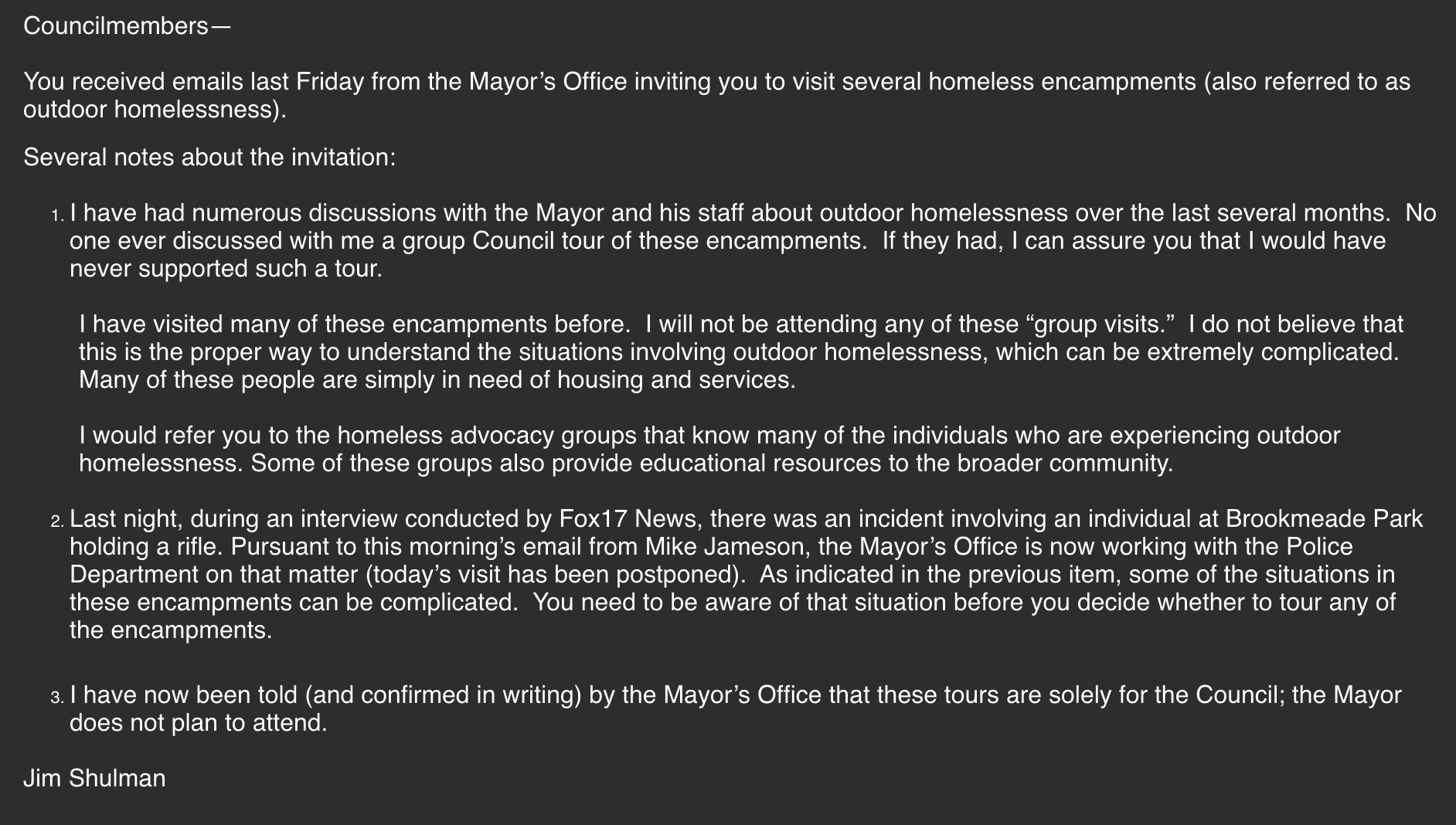 ---
---
---
Leave a comment